HAPPY NEW YEAR! When I started the Fiddle and Dough Facebook Group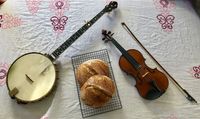 , I never had any idea what a great community of music-loving, oven-loving folks would come together. Thanks for jumping on board with your stories, sense of humor, friendliness and amazing bakes. It's sure been a refuge for me in these challenging times, and I hope it's been the same for you all too. 
Wishing everyone a happier, healthier and more peaceful 2021. Let's keep it going! More boules, batards, biscuits, bagels and bad jokes please. 
Warmest, Bruce