It's so incredibly great to finally be starting back into the world of live performance, and to be in the same room together again. But all this "alone time" hasn't kept a lot of us from music, working on projects and making plans. 
"Everywhere You Go" is a recording project I've been cogitating abo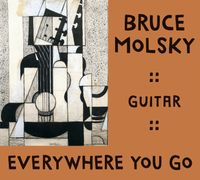 ut for a long time, and now it's done and I'm over the moon! Eleven finger style guitar tracks, new arrangements of songs and tunes from all over the world. Thanks to graphics designer Meghan Merker, the physical package is gorgeous, and I had the opportunity to stretch out and write notes describing the journey that makes each track important to me. 
To celebrate this new release, I've scheduled a number of "guitar-centric" concerts. (My fiddle and banjo will be along for the ride, too, of course.) I can't wait to sit down and play some of these pieces for you. See the schedule at brucemolsky.com. 
There are also live shows coming up with my colleague and pal, the great Tony Trischka on banjo, and a few with Tony, me and powerhouse guitarist and singer Michael Daves. It's so good to be out there again. 
Adversity fuels art and activism (thank goodness). Cannonball Adderly's words before launching into his most famous recording of Mercy Mercy Mercy come to mind. "Sometimes we don't know what to do when adversity takes over . . ." Well, we've proven that we do know, and we're on it. Just look around, and be part of it!