It's been so great having some breathing space this summer, to regroup, get organized a little, light the barbecue a lot and get ready for a very busy fall and winter. I'm always looking forward to the next musical thing. Hope your summers all have been great! 
I had a memorable Beacon-to-Brooklyn weekend last week with the very formidable Michael Daves and Tony Trischka.  (Tony, Michael & me warming up at the Towne Crier!) There's simply no holding back when playing with those two - it was a big highlight. Festivals Chants de Vielles and Edmonton Folk Festival with the Mountain Drifters were a blast as well.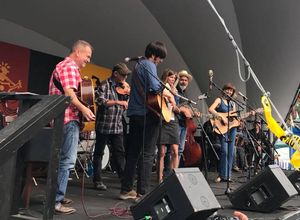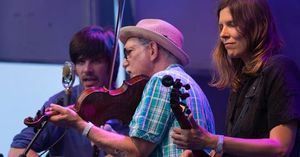 And for me, a soggy-but-wonderful trip to Clifftop, aka The Appalachian String Band Festival in "Wild Wonderful West Virginia" was an exercise in music and staying dry. Have to say I did better with the music part than the staying dry part. And I *love* long solo drives . . . 
Good things are on the horizon moving into the fall. Closest up, Allison and I will be at the long-standing Turtle Hill Folk Festival near Rochester, New York this coming weekend. Then straight to Berklee College in Boston to start the school term with the most amazing students, some of whom will be at Fresh Grass Festival the following weekend. So will The Mountain Drifters! Then it gets busy. 
See the schedule page, and hopefully we'll be close to you somewhere along the way. In addition to MMD touring - Here's "Drifters in September", I'll be regrouping with Aly Bain and Ale Möller for some shows in the UK and Sweden in October, then back to the UK for a solo tour at the top of December: brucemolsky.com/tourdates 
MMD is also completing our second CD! The official release is a few months away, but look for some singles coming soon. Allison, Stash and I have been growing our musical voice and pushing it into a new place, and loving the journey. We're so happy about this next musical snapshot. facebook.com/mountaindrifters 
Here's a thing: I'm on the Board of Directors for what promises to be a wonderful new organization based here in Beacon. The American Center for Folk Music (ACFM) is getting off the ground, and we hope to make it a place to celebrate, educate and promote our diverse and unique American folk culture. On September 12, Rhiannon Giddens has graciously agreed to play for an ACFM benefit at the Towne Crier here. If you've followed Rhiannon through the Carolina Chocolate Drops into her amazing solo career, you'll understand why we're so excited and stoked to see where this is going! For info about the ACFM and it's mission, check out http://centerforfolkmusic.org 
That's about it for now. And if you'd like some lessons, I have video lessons onPeghead Nation, and keep writing on my blog there. It's great to hear from you. 
Oh yeah, one last thing: Please, please vote, in the upcoming primaries and in the general election. It's never been more important than it is now. 
Stay well, and thanks for staying in touch! 
Warm wishes, Bruce